Dodge and Mopar Fans Show Their Support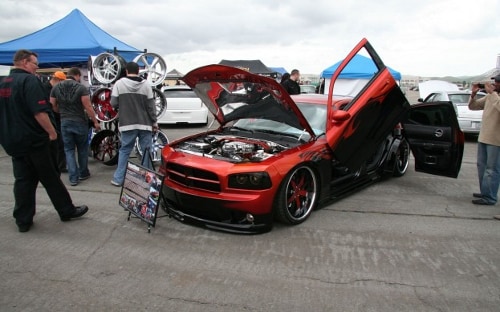 Fans of Mopar converged on an El Toro Marine base near Irvine, California, showing their support for enhanced Dodge Chargers and Dodge Challengers.
The show brought out more than 800 vehicles from across North America, and attendees from as far away as Europe. Participants received a complimentary barbecue lunch, a speech by Dodge brand CEO and senior vice president of Design Ralph Gilles. He thanked the crowd for their undying support. The group even had a motto - "Mopar or No Car."
There were seminars hosted by Chrysler Group representatives for Dodge owners, Chrysler owners, and Mopar Accessories. They got first-hand feedback from owners about likes, dislikes, and input on future products.
There were test-drives for 2011 models, as well as a drifting demonstration by Sam Hubinette in a Dodge Challenger and Viper. The Viper managed to put on an entertaining smoke show before it was put out of commission. Dodge Viper, along with other new Dodge models are available now at
Bill Luke Chrysler Jeep Dodge
- 2425 W Camelback Road, Phoenix, AZ 85015.
Source: http://wot.motortrend.com/mopar-lx-fans-converge-california-chrysler-300s-dodge-chargers-challengers-62913.html